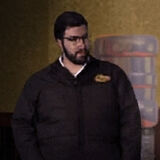 Rudy, of Rudy's Upholstery, was hired to cover Tex's office chairs. When he was done, however, he decided to also "cover" Tex's wife, Sylvia in ways not covered by the standard customer service plan. Tex walk into the office Rudy is flirting with his wife. Tex warns Rudy that customer service does not include his wife although he was impressed with the job on the chairs.
Ad blocker interference detected!
Wikia is a free-to-use site that makes money from advertising. We have a modified experience for viewers using ad blockers

Wikia is not accessible if you've made further modifications. Remove the custom ad blocker rule(s) and the page will load as expected.