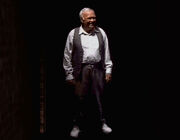 Pug is a shifty, homeless opportunist who lives around Chandler Avenue. He is said to smell terrible as he sleeps in a box next to the Snow White Warehouse. He was paid by Colonel Dobbs to keep an eye on Tex Murphy and report to him to what persons he talks to, especially when he sees him with a bird statue.
As he stalks Tex, he sees Tex rendered unconscious by The Chameleon and finds the oportunity to take his wallet at the end of Day 2. Sal Lucido told Fran to not say anything to Tex, however she reveals this to Tex when he does her a favor. With help from Beek Nariz, Tex finds Pug on Day 3, who hands his wallet back, and explains that Colonel Dobbs had paid him to keep an eye on him.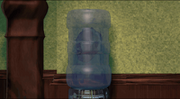 On Day 4 he is killed by The Chameleon, who stuffs his severed head into the water cooler in Tex's office. The cops are uninterested in finding his killer and so dont bother investigating it due to Pug being a mutant.
His head is seen in the morgue in The Pandora Directive.
Ad blocker interference detected!
Wikia is a free-to-use site that makes money from advertising. We have a modified experience for viewers using ad blockers

Wikia is not accessible if you've made further modifications. Remove the custom ad blocker rule(s) and the page will load as expected.