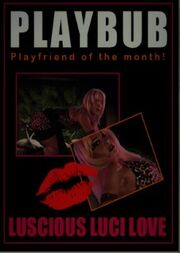 Playbub is an adult magazine, a clearly parody of Playboy.
The December '42 issue featured "The Girls of the CalTech Mathematics Department" and was found in the Golden Gate Hotel penthouse. Another copy was found in the Conference Room on the GRS 4rth subterranean level.
In 2050 Emily Sue Patterson appeared as playgirl of the month.
Ad blocker interference detected!
Wikia is a free-to-use site that makes money from advertising. We have a modified experience for viewers using ad blockers

Wikia is not accessible if you've made further modifications. Remove the custom ad blocker rule(s) and the page will load as expected.