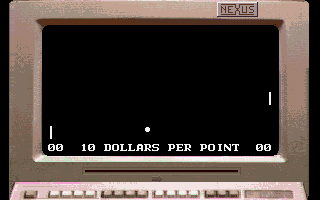 Nexus is a network of computer terminals given by the
MTC
to scientists working on
Overlord
. It was designed by
Larry Hammond
, consisting of a central computer and 8 terminals. He also made a failsafe mechanism which would cause the whole system (and the satellite) to self-destroy.
Access to the Nexus requires a passcard and password. All terminals also had the game Pong installed, which loaded with the use of password pong.
Carl Linsky believed there were 8 other scientists working on the system and hired Sonny Fletcher to discover the rest.
Fletcher discovered several possible passwords: isbpho, ueqne, lasentolw, nodgar, gnop, nikg, oork, napw, ehcetmack, bmgtai, etsaelmatslctae, niktgh, clbak, tewih.
These mean: bishop, queen, stonewall, dragon, pong, king, rook, pawn, checkmate, gambit, stalemate, castle, knight, black, white.
Ad blocker interference detected!
Wikia is a free-to-use site that makes money from advertising. We have a modified experience for viewers using ad blockers

Wikia is not accessible if you've made further modifications. Remove the custom ad blocker rule(s) and the page will load as expected.