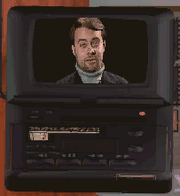 Marcus Tucker was a high-ranking member of the Brotherhood of Purity and Director of GRS. Tucker doesn't trust most of his staff and has the project groups working separately in GRS.
Alaynah Moore was his personal secretary but she sensed that everything seemed mysterious and secretive and left the job.
He led the project for Genetic Disease Control located on the 4rth subterranean level of the building. Eva Schanzee, Thaniel Murray and Camden Leander were supervisors under him.
In his office, several employees, like Schanzee and Paul DuBois were initiated to the Cult.
He executed DuBois and also was given Eva's effects when she was uncovered as a CAPRICORN agent. He didn't know that the Winter Chip was hidden in her buddha statue.
He received a notification from his fellow Cultists that the Habuh was now in their possession, and that Brother Thaniel was eliminated as unsuitable; along with instructions to come to the Bastion of Sanctity where the Chameleon would provide transport to the Moon Child.
Tuckers narrates the "Welcome to the G.R.S." lasedisc. Tex Murphy used the recording of Tucker's voice in order to gain access to his safe.
Novelization
In August Tucker welcomed to his home 15 persons including Eva Schanzee, Camden Leander and other 8 employees, for an initiation ceremony.
Ad blocker interference detected!
Wikia is a free-to-use site that makes money from advertising. We have a modified experience for viewers using ad blockers

Wikia is not accessible if you've made further modifications. Remove the custom ad blocker rule(s) and the page will load as expected.