Lucia Pernell is an invesitgative reporter at the Bay City Mirror who is known to the locals of Chandler Avenue due to her coverage of the Black Arrow Killer murder and a series of burglaries. She is contacted by Tex during his Pandora Directive case providing him with information on the aforementioned serial killer,Sandra Collins home address and how to decipher an important anagram that later acts as a password to a CD found in Malloys former care (thus leading him the final of a series of boxes). In exchange he provides her with secret EUPHORIA files to help publicy destroy the NSA's reputation.She is known as a no nonsense women and who is straight to the point and Tex admits that if given the chance she could easliy beat him up.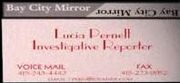 Ad blocker interference detected!
Wikia is a free-to-use site that makes money from advertising. We have a modified experience for viewers using ad blockers

Wikia is not accessible if you've made further modifications. Remove the custom ad blocker rule(s) and the page will load as expected.