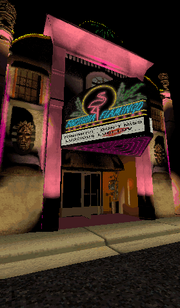 Fuchsia Flamingo is a dance show hall which opened at 165
Chandler Avenue
where the closed
Bijou
Cinema was. The owner is
Gus Leach
.
Luci Luv
sings there.
Knowing that Luci knew about Thomas Malloy, Tex Murphy went out with Chelsee Bando there, who got a membership there last week in two paths. Chelsee was uneasy with Tex staring Luci, and when he explained that they went there to help his investigation, it only made things worse .In the most evil path Tex enters Luci's dressing room drunk.In the Good Tex path Tex goes there alone and like the other paths talks to Luci.He later returns there to save Luci's life.By 2050 both Gus and Luci have left Chandler Avenue and the nightclub is shut down.
Ad blocker interference detected!
Wikia is a free-to-use site that makes money from advertising. We have a modified experience for viewers using ad blockers

Wikia is not accessible if you've made further modifications. Remove the custom ad blocker rule(s) and the page will load as expected.