Mean Streets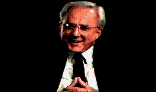 A ruthless egomaniac and Executive Vice President of Gideon Enterprises, he tossed J. Saint Gideon through some vicious internal politics and became President and Chairman of the Board.
Gideon noted that Schimming view the Corporation as a company and not an institution. He wanted to pay him back.
Several characters describes him as an arrogant son of a bitch. A rumor has it that he once put a live bunny in the paper shredder.
Overseer
In a similar way, Frank Schimming pulled a coup on J. Saint Gideon. His direct line number is 015-4483.