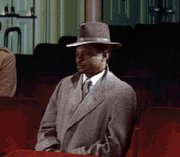 Franco Franco is an underground collector of stolen and illegal merchantise. One can reach him at the
Alhambra Theatre
, 808 Paloma Lane. Presumably he had acquired the theatre to watch old movies all alone, with his thugs.
Always interested in jade artifacts, he had put a request in the Jewelry Weekly. Tex Murphy heard about him from Mac Malden and contacted him for his advertisement. He met him in the theatre as he watched a Buster Keaton flick. In exchange of a piece of jade which Tex found in Mick Flemm's posessions, Franco told him the statuette he was looking for. He told Tex that the statuette was in the vault of Eddie Ching.
After their meeting, he sent Tex a fax. He had a crudge with Ching and would be happy to help Tex. He wrote to him that he lives in Knickerbocker, a high-security apartment building where several powerful underworld figures live.
Ad blocker interference detected!
Wikia is a free-to-use site that makes money from advertising. We have a modified experience for viewers using ad blockers

Wikia is not accessible if you've made further modifications. Remove the custom ad blocker rule(s) and the page will load as expected.