Chameleon
Profession
Shaman
Biographic Information
Gender
Male
Race
Norm
Died
2042(death by cult virus)
Hair
Black, long
Number
Bastion Of Sanctioty
Appearances
Appears in
Under a Killing Moon and novelization
Played by
Russel Means
Chameleon was a Native American shaman who masters the ability of shapeshifting. He was an agent of the Brotherhood of Purity.
History
He is seen at the end of Day 1 in the Bastion of Sanctity, talking with an unseen Lowell Percival.
As Countess Renier he hired Tex Murphy to steal the crystal bird from Eddie Ching. However when he was ready to deliver it to the Countess, Chameleon showed up and hit him, stealing the statuette. Pug witnessed the event and told Tex about it.
On Day 4 the Chameleon killed Pug and stuffed his head into Tex's office cooler and left a warning message to him and stand away from their plans.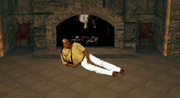 On Day 5, Chameleon took the form of Tex Murphy and kidnapped Alaynah Moore who was hiding at the Roadside Motel. He took her at the Bastion of Sanctity. However Tex managed to poison him with a viral powder, the same one with which the Brotherhood planned to annihilate life on Earth.
Chameleon was expected at the Broken Skull bar to meet Ferrel Pus. Tex claimed to come in his place.
Novelization
See Jacques Fou
Ad blocker interference detected!
Wikia is a free-to-use site that makes money from advertising. We have a modified experience for viewers using ad blockers

Wikia is not accessible if you've made further modifications. Remove the custom ad blocker rule(s) and the page will load as expected.