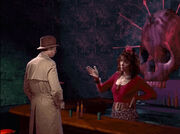 The bartender( played by Margot Kidder) at the Broken Skull. She keeps a pistol hidden behind the bar for whoever gets on her bad side, or at best she calls to Bluto to escort nosy people out. Being a member of the Brotherhood of Purity, she introduces other cultists who visit the Waystation to Ferrel Pus in order to gain access to the Moon Child.
Tex Murphy managed to fool her, pretending he is an associate of Chameleon, and redirected him to Pus. However he did not fool Pus. Once the bartender was asked the "house special" (as Pus instructed him), she poured him a potion which incapacitated Tex and was taken as a hostage on board the Moon Child.
Ad blocker interference detected!
Wikia is a free-to-use site that makes money from advertising. We have a modified experience for viewers using ad blockers

Wikia is not accessible if you've made further modifications. Remove the custom ad blocker rule(s) and the page will load as expected.