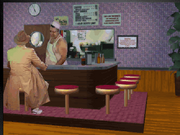 Brew & Stew is a diner ran by
Louie LaMintz
. Most of the regulars are
mutants
. As
Tex Murphy
noted, it was not for everyone. The only employee is
Glenda
.
The joint opens at 6 am and is always more peaceful in the mornings, with a rustle of newspapers, yawning and stretching, then replaced in the nighttime by sounds of inebriated laughter and clinking glasses. There is always a savory aroma coming fro the kitchen, the beer is always ice cold and has constanty two or three loyal patrons at the bar.
During Tex's most difficult period in life, he would visit daily the joint for breakfast and dinner, as Louie was patiently keeping his tabs without rushing him.
Ad blocker interference detected!
Wikia is a free-to-use site that makes money from advertising. We have a modified experience for viewers using ad blockers

Wikia is not accessible if you've made further modifications. Remove the custom ad blocker rule(s) and the page will load as expected.