Mean Streets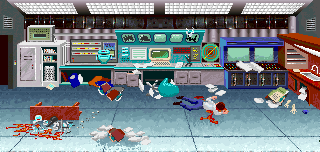 Bosworth Clark is an eccentric scientist who works with satellites. He has several insurance policies from Peter Dull.
He called Frank Schimming saying he had something very important to talk about but Schimming dismissed him.
Big Jim Slade went to his laboratory and strangled him for $5000. Tex Murphy came later and found him dead but found a lead to Big Surf Hotel.
Overseer
Bosworth Clark shares a similar background where he works with satellites and were employed at AT&T. He started a swing band called "The Consultants of Swing" in 2022.
His murder is documented on a security tape where he is forced to play Russian roulette by Big Jim Slade.
Ad blocker interference detected!
Wikia is a free-to-use site that makes money from advertising. We have a modified experience for viewers using ad blockers

Wikia is not accessible if you've made further modifications. Remove the custom ad blocker rule(s) and the page will load as expected.